Saudi Arabia 2023 | Mysteries of Mount Sinai Explored
Saudi Arabia Tour Dates: April 30 – May 4, 2023
---
---
EMBARK ON AN ANCIENT JOURNEY
The Exodus that exists today in Saudi Arabia, and is outlined in the second book of the Torah, contains some of the most vital and momentous accounts in all of the Torah. You will survey Jabal al-Harb. During the sojourn at the mountain, you will have your private overnight camp and mobile facilities set up. The base camp will be approximately 3/4 kilometers from the base of Jabal al-Harb under the commanding summit. We will also have a covered tent area for lunches and sitting that is approximately ¼ kilometer from the same site or a 15-minute rocky walk. There will be vehicles to drive you between the two sites, plus the vehicles will be available to visit any of the nearby areas of archaeological significance. There will always be a couple of vehicles on site, although not all of them at all times, since your primary objectives do not require them to stay.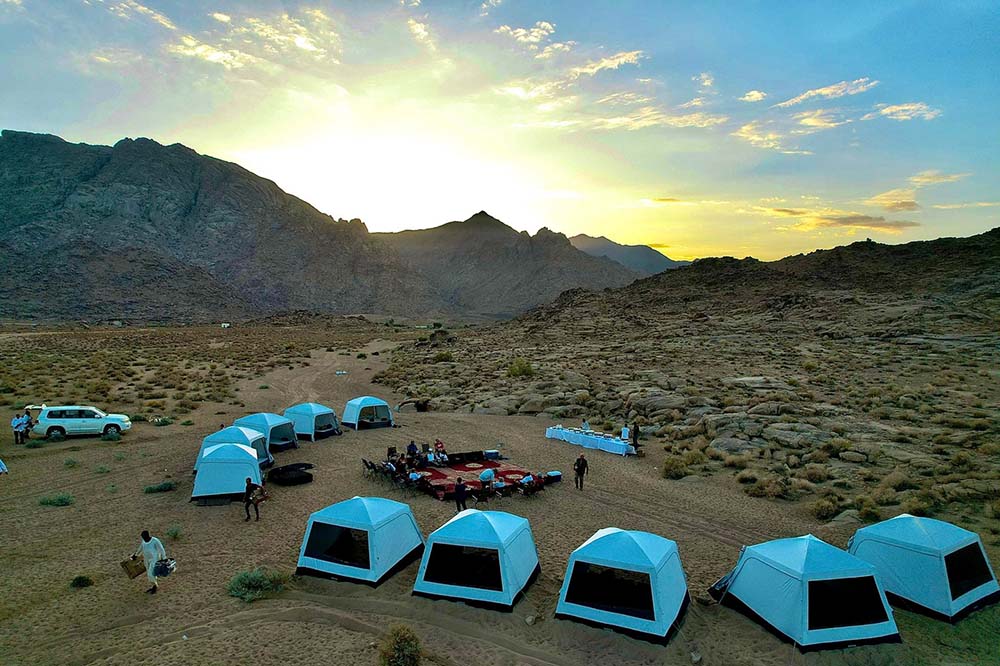 ---
Important for Acceptance into the Kingdom of Saudi Arabia:
In the past years, travel to the Kingdom was not allowed with Israeli stamps in your passport. That is no longer the case as of today. Any Israeli who wishes to travel to Saudi Arabia must either have a valid passport issued by another country, or residence outside of Israel. If you do not have residence outside of Israel, you may have to travel to Saudi Arabia via ground. Contact Living Passages if this is the case.
Be advised that you will be fingerprinted and undergo a retinal scan upon arrival in the country. The country is undergoing a remarkable restoration and we cannot predict if a site might be under construction. Be sure to study the artificial intelligence-operated area called NEOM. Our travels will take us into the middle area of it.
---
Important Travel Details:
Your trip includes hotels, camp, meals as noted, and water on the entire trip. It includes the 4WD transportation, and all transportation throughout the trip, all specialized permit fees to be at the areas of antiquity.  The outfitter fees, guiding, bedding, and other overnight needs, (Including overnight permits) pre-trip materials, and visa assistance.
Optional trip cancellation insurance (below) – we strongly recommend trip cancellation insurance which includes medical insurance (including emergency evacuation) and trip delay protection. Purchase the insurance with your initial deposit.
In order to maintain the economy air cost, a nonrefundable deposit of $2,000 per person is due prior to February 12, 2023 (to guarantee air prices).  If you wish to book your own airfare, a deposit of $750 per person is due prior to February 20, 2023 (plus optional travel insurance) and your signed registration form.   We will continue to take reservations after February 20, but final payment will be due immediately.
---
Traveling Single:
We match roommates! If you are a single person or traveling alone, we do have others who would like to travel with us without paying the single supplement. We assign roommates approximately 2 weeks prior to departure. We cannot guarantee it, but it has worked well for many.
---
Please note:
There is a credit card price and a discounted price when paying cash/check for the cruise. You may, if you wish, make your deposit and insurance premium payment by credit card and pay the balance by check. If you choose to do this, we will apply the cash discount to your full cost.
Transfers are not included unless you are taking our optional air program. If you make your own flight arrangements or book outside of the optional group air, you will be responsible for obtaining your transfer to and from our starting and ending destinations
---
Terms and Conditions:
Please review the full Terms & Conditions before booking!
Saudi Arabia 2023 | Mysteries of Mount Sinai Explored
Please begin making your selections below and configuring your travel options.
IMPORTANT: You must select an option for Travel Insurance in order to continue. If you do not wish to purchase Travel Insurance, please select "Decline Coverage" from the list of options.