SEVEN CHURCHES OF REVELATION TOURS & CRUISES
Travel to the authentic locations of the churches in Turkey and Greece as written of in the Book of Revelation.
At this time it seems as though the governments are relaxing their Covid vaccination requirements.
Saudi Arabia, Israel, Jordan, South Africa, Egypt, Turkey, and other countries do not require it.
Greece and Italy allow non-vaccinated tourists but do require them to be tested frequently.
Subscribe to our YouTube Channel
Our Seven Churches of Revelation Tours & Cruises Explore Prophecy!
Our custom tailored Mediterranean journeys aim to explore the historical side of Biblical prophecy, by visiting the authentic locations written about in the Book of Revelation.
Journey to the isle of Patmos, where John received the book in a vision from Jesus Christ. Survey the ruins of the former cities which housed the churches. Explore the prophetic significance as these locations relate to the end-times church of the modern world.
Many of our Footsteps of Paul tours travel to the same locations as the Seven Churches of Revelation tours, which is why you will find similar travel options in each category.
Travel to the original locations of the Churches of Ephesus, Smyrna, Pergamum, Thyatira, Sardis, Philadelphia, and Laodicea.
---
For more information about these Seven Churches of Revelation tours and cruises, call us today at 1-888-771-8717 or email us at [email protected].
Available Seven Churches of Revelation Tours & Cruises:
---
With Pastor Bryan Hughes
$4,279 pp
October 4 – 13, 2023 | Optional Cappadocia Extension | October 2-5, 2023
More Details >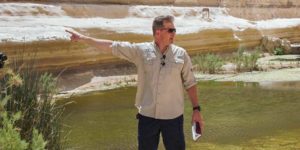 Christians can learn from apologist Frank Turek how to prove the Bible is true and accurate while traveling the world and gathering experiential evidence! Apologist Frank Turek doesn't shy away from difficult questions. As a Christian speaker, Frank spends a lot of time traveling to college campuses across the country answering questions from young people who…
What Can You Expect On Our Seven Churches of Revelation Tours & Cruises?
Authentic Locations

Visit unique and truly authentic historical sites along your journey!

Luxury Accommodations

Rest comfortably in luxurious hand-selected first-class hotels!

Flexible Flights

Adaptable airfare with group air discounts or purchase your own tickets!

Christian Care

Our Christian travel experts handle all the fine details of your travel!
Exceptional Teachers

Each tour is led by an anointed teacher of New Testament Biblical history!

Bible Study

Each stop on your tour will be supported by in-depth Bible study!

Christian Fellowship

Make new friends and fellowship with other Christians!

All-Age Appropriate

Designed for Christian singles, seniors, couples, and families alike!