CHRISTIAN ISRAEL TOURS
Join our Christian Holy Land tours and explore the most authentic sites in Israel and Jordan!
At this time it seems as though the governments are relaxing their Covid vaccination requirements.
Saudi Arabia, Israel, Jordan, South Africa, Egypt, Turkey, and other countries do not require it. 
Be the First to Know!
Sign up for new Israel, Jordan, & Petra tour announcements and priority registration access!
Available Holy Land Tours:
---
With Dr. Norris Belcher, Jr. from Church of the Open Door
$4,995 pp
Full Tour October 27 - November 7/8, 2023 | Israel Only Tour October 27 - November 4, 2023
More Details >
---
With Pastor Bob Franquiz of Calvary Fellowship
$5,229 pp
November 4-14, 2023 | Optional Apostle Paul Rome Extension November 14-17, 2023
More Details >
---
With Frank Turek & Eli Shukron
$6,299 pp
November 8-16, 2023 | Jordan & Saudi Arabia Extension - November 16-20/21, 2023
More Details >
Available Holy Land Cruises:
---
With Dr. Miles Jones & Monte Judah
$9,259 pp
March 8-19, 2024 | Optional Visits Offered
More Details >
---
With Joel Richardson & Eli Shukron
$10,599 pp
February 14 - March 1, 2025 | Optional Goshen - Land of Joseph Pre-Tour | February 12-15, 2025
More Details >
---
With Dr. Miles Jones
$11,659 pp
February 15 - March 2, 2025 | Optional Goshen - Land of Joseph Pre-Tour
More Details >
Israel & Jordan Traveler Testimonials
Our Holy Land tours of Israel, Jordan and Petra explore authentic Christian destinations with world-renowned leaders and exclusive archaeology site access!
Subscribe to our YouTube Channel
Our Holy Land Tours Are Awe-Inspiring Faith-Building Adventures!
Explore the most authentic sites in Israel and Jordan on a journey through the Holy Land! Our Israel and Jordan tours will leave you refreshed. God will breathe new life and vision to your favorite Bible passages.
Stand in awe as you visit original sites with exclusive access no other tour can offer!
Investigate the City of David, Pilgrimage Road, the Pool of Siloam, and Temple Zero with archaeologist Eli Shukron
! Examine the Trumpeting Stone, the Dead Sea Scrolls, and artifacts in Archaeology Park. Wade through Hezekiah's Tunnel and get baptized in the Jordan River! Tour Petra and the unforgettable Nabatean ruins in Jordan!
Travel to Masada and the Dead Sea, and stay on the shore of the Sea of Galilee. Climb the Golan Heights and witness the future fields of war at Megiddo. Inspect Rahab's Wall and the old city of Jericho, as spoken about in the Book of Joshua. Observe classic sites such as the Mount of Olives, Nazareth, and the Garden tomb.
Enjoy your coffee as the first rays of sunlight grace the Old City and illuminate the Temple Mount. Midday, you will enjoy the hustle and bustle perusing the markets and Jewish Quarter. Witness the Western Wall worshipers calling their prayers into the twilight hours.
Our world-renowned leaders and anointed guides bring a fresh perspective to your knowledge of the Old and New Testaments
. The Lord continues to reveal the secrets of Israel through archaeology and prophecy. Join us for unforgettable faith-building tours of the Holy Land, which God is revealing more of day by day!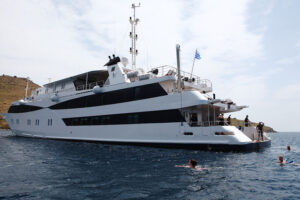 Wadi el-Hol By Jennifer Bartlett Christian travelers pursuing truth and Biblical documentation have a new opportunity on a Red Sea cruise itinerary aboard a small luxury yacht with Living Passages. Reached from a visit of our privately chartered ship we drop anchor at a Red Sea port. From here, we can draw near to a dramatic curve in…
What Can You Expect On Our Israel and Jordan Holy Land Tours?
Authentic Locations

Visit unique and exclusive historical sites along your journey!

Luxury Accommodations

Rest comfortably in luxurious hand-selected first-class hotels!

Flexible Flights

Adaptable airfare with group air discounts or purchase your own tickets!

Christian Care

Our Christian travel experts handle all the fine details of your travel!
Exceptional Teachers

Each tour is led by a world-renowned teacher of Biblical history!

Bible Study

Each stop on your tour will be supported by in-depth Bible study!

Christian Fellowship

Make new friends and fellowship with other Christians!

All-Age Appropriate

Designed for Christian singles, seniors, couples, and families alike!