FOOTSTEPS OF PAUL TOURS & CRUISES
Cruise through the Mediterranean Sea, Greek Islands, and Turkey, following the Apostle Paul's missionary journeys!
Be the First to Know!
Sign up for new Footsteps of Paul tour & cruise announcements and priority registration access!
Available Footsteps of Paul Tours & Cruises:
Subscribe to our YouTube Channel
Our Footsteps of Paul Tours and Cruises are Inspirational Biblical Adventures!
There are few human figures whose ministry has had the impact Paul's has. His life and death are an inspiration to Christians worldwide. What if you could follow in his footsteps? The Apostle Paul took four missionary journeys.
His final journey was an extraordinary voyage full of miracles, yet sadly ended in Rome with the taking of his life. 
Each customized tour centers around his missionary stops, which include some of the most appealing Christian sites in the "Seven Churches of Revelation."
Each tour is rarely the same as the one before! Your journey to the places he traveled will give you new insight into the accounts he penned in the Bible.
---
For more information about these Footsteps of Paul tours and cruises, call us today at 1-888-771-8717 or email us at [email protected].
Our Footsteps of Paul tours and cruises celebrate the top destinations you can reach by ship or by land.
Our most popular tours & cruises make stops from all four of his journeys. The sites can include:
Ephesus
Corinth
Philippi
Pergamum
Sardis
Troas
Rome
Athens
Neapolis
Miletus
Laodicea
Antioch
Malta
Crete
Thessaloniki
Berea
Colossae
Perge
Jerusalem
Cyprus
Caesarea Maritima
Assos
Puteoli
Attalia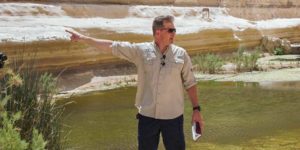 Christians can learn from apologist Frank Turek how to prove the Bible is true and accurate while traveling the world and gathering experiential evidence! Apologist Frank Turek doesn't shy away from difficult questions. As a Christian speaker, Frank spends a lot of time traveling to college campuses across the country answering questions from young people who…
What Can You Expect On Our Footsteps of Paul Tours & Cruises?
Authentic Locations

Visit unique and truly authentic historical sites along your journey!

Luxury Accommodations

Rest comfortably in luxurious hand-selected first-class hotels!

Flexible Flights

Adaptable airfare with group air discounts or purchase your own tickets!

Christian Care

Our Christian travel experts handle all the fine details of your travel!
Exceptional Teachers

Each tour is led by an anointed teacher of New Testament Biblical history!

Bible Study

Each stop on your tour will be supported by in-depth Bible study!

Christian Fellowship

Make new friends and fellowship with other Christians!

All-Age Appropriate

Designed for Christian singles, seniors, couples, and families alike!